EcoCloud Annual Event scheduled for May 5th/6th will be cancelled this year due to the accelerated spread of the pandemic and the ban on mobility in the coming weeks. The health and safety of our community is paramount during these difficult times.
The EcoCloud executive committee is currently considering hosting a virtual event at a later date in 2020 in a format that would be productive for our affiliates with time zones spanning from China, Europe to the US West Coast. We are happy to report that EcoCloud recently hosted the ML4HPC workshop (as part of ASPLOS) on a virtual platform with 38 participants spanning these time zones. We have collected a survey from the participants about their experience which has so far been overwhelmingly positive, and will incorporate the feedback into future virtual events.
In the meantime, daily operations proceed with guidelines from the Swiss government and EPFL with regards to working from home.
We wish everyone safety and health in the coming weeks.
The EcoCloud Team
2020 Annual Event
Welcome to the EcoCloud 2020 Annual Event. This year's event will feature industrial speakers and EcoCloud researchers on May 5 and 6, 2020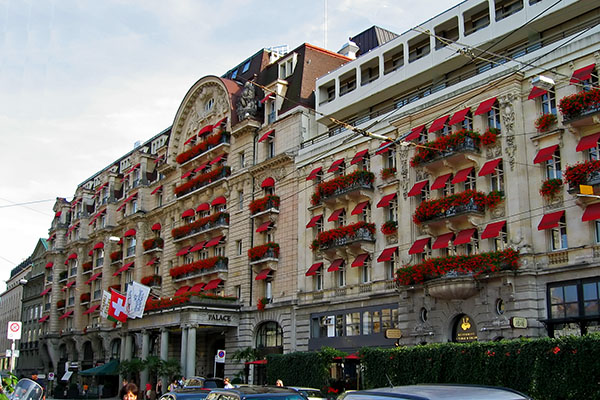 May 5 and 6, 2020
Lausanne Palace Hotel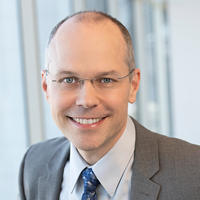 Keynote 1
New Compute Models to Power the Data Revolution
Rich Uhlig, Intel Labs
This talk will cover research topics on new computing models ranging from research in quantum computing, neuromorphic computing, compute-near memory, silicon photonics, trusted-execution environments, graph analytics, etc.
Rich Uhlig is the managing director of Intel Labs and an Intel senior fellow. Prior to this role, Rich was the director of Systems and Software Research in Intel Labs, where he led research efforts in virtualization, cloud-computing systems, software-defined networking, big-data analytics, machine learning and artificial intelligence. He joined Intel in 1996 and led the definition of multiple generations of virtualization architecture for Intel processors and platforms, known collectively as Intel Virtualization Technology (Intel® VT). Rich earned his Ph.D. in computer science and engineering from the University of Michigan.
Keynote 2
TBD
Ramanath Ramakrishnan, Eaton
Ramanath Ramakrishnan is executive vice president and chief technology officer for Eaton. Ramanath originally joined Eaton in 2005 as a director of corporate technology and later was named senior vice president of technology for the Industrial Sector, where he led significant technology and innovation programs for Eaton's Aerospace, Hydraulics and Vehicle businesses. Before joining Eaton, he worked with GE for nine years, and held engineering positions with Wyman-Gordon Company, an aerospace components manufacturer. Ramanath is a certified professional engineer and holds a master's degree in mechanical engineering from Ohio University. He is a certified Master Black Belt in Six Sigma and holds two patents.
Industrial Session
This year's industrial session will feature prominent speakers from the IT industry including:
---
Speculative Execution Attacks as the New Memory Corruption: A Systems and Software Challenge for the Next Decade
Anil Kurmus, IBM Research Zurich
Spectre and Meltdown are the first of numerous transient attacks, which demonstrate that subtle CPU design and implementation issues can result in real world attacks, leaking sensitive information from systems. In this talk, we survey some Spectre-like attacks, and discuss approaches to understand, mitigate and prevent them. We draw a parallel with memory corruption and argue that a similar challenge to achieving memory safety awaits system and software researchers in designing efficient solutions to speculative execution attacks.
Anil Kurmus is a security researcher at the IBM Research Zurich laboratory. His interests are mainly on systems security, software security, microarchitecture security, storage systems, and applied cryptography, both in terms of offensive and defensive research. He holds a PhD degree (Dr.-Ing) from Technische Universitat Braunschweig (2014), and a Master's degree (Diplome d'Ingenieur) from Telecom ParisTech (2009). His work, often in collaboration with excellent students visiting IBM Research, has been published in top systems security conferences.
---
Edge Computing at Huawei
Javier Picorel, Huawei
With the popularity of cloud services and intelligent devices skyrocketing, Information and Communications Technology (ICT) giants are challenged to cope with the massive data generation and user-request rates of a globally interconnected world. Huawei, as one of the leaders in the IT industry, has turned to edge computing, in which processing happens closer to where data is generated, rather than processing at the hyper-scale datacenters only. In this talk, I will discuss the opportunities and challenges of edge computing and its implications to the traditional centralized cloud models, and present real-world examples of employing edge computing at Huawei.
Javier Picorel is a research scientist leading the Infrastructure-as-a-Service (IaaS) team in Huawei's Munich Research Center, which focuses on the hardware and software platform design and efficiency for Huawei Cloud's portfolio, along with shaping and roadmapping the business layout and technology focus of Huawei's public cloud. He is broadly interested in TCO-efficient cloud infrastructures through the vertical integration of hardware and software layers in the end of semiconductor technology scaling. He received a PhD in computer science from EPFL in 2017 and he is also the recipient of several awards in Huawei.
---
Optics for the Cloud: Challenges and Opportunities
Hitesh Ballani, Microsoft Research
Hitesh Ballani is a Senior Principal Researcher at Microsoft Research in Cambridge, UK. His research aims to build systems and networks for next-generation data centers. His current focus is on developing optical technologies for the cloud. Previously, he worked on a Quality-of-Service architecture for networked storage that ships in Windows Server. He graduated with a PhD in Computer Science from Cornell University in 2009 and then joined Microsoft.
---
Adversarial Samples: an Industry Research Perspective
Mathieu Sinn, IBM Research - Ireland
Adversarial samples are inputs to Deep Neural Networks (DNNs) that an adversary has tampered with in order to cause specific misclassifications. It is surprisingly easy to create adversarial samples and surprisingly difficult to defend DNNs against them. In this talk I will review the state-of-the-art and recent progress in better understanding adversarial samples and developing DNNs that are robust against them. I will then give an industry perspective on the potential threats that adversarial samples pose to security-critical applications of DNNs. Finally I will show how researchers and developers can experiment with adversarial attacks and defenses using our open-source library https://github.com/IBM/adversarial-robustness-toolbox.
Dr. Mathieu Sinn is a Research Staff Member and Manager of the AI & Machine Learning group at the IBM Research lab in Dublin, Ireland. He has a Master's in Computer Science and a PhD in Mathematics from the University of Luebeck, Germany. He has worked on a large variety of fundamental and practical aspects of Machine Learning, with the most recent focus on robustness of AI against adversarial threats. Mathieu is an IBM certified Data Science Thought Leader, regular reviewer for top AI conferences and has served as external PhD committee member on various occasions.
---
Data Warehouses Are Dead, Long Live Data Warehousing!
Mehul Shah, Amazon
While data warehouses remain an important primitive for analysis, they no longer are the central information hub that decision making revolves around for enterprises. Modern data sets are too large and unstructured for traditional warehouses to handle, and traditional warehouses do not leverage the cloud. Yet, the need for warehousing data sets company-wide under a single locus of control still exists. So, instead, companies are setting up next-generation, communal information hubs – an evolution of enterprise data warehouses – dubbed "data lakes". In this talk, I will discuss the opportunities and challenges in managing data lakes, and present AWS Lake Formation, a new service that makes it easy to setup, secure, and manage data lakes.
Mehul Shah is the GM for AWS Glue and AWS Lake Formation, and prior to that, he was a senior manager for Amazon Redshift. His expertise spans large-scale data management, distributed systems, and energy-efficient computing. His work has been published in top-tier conferences and journals and has won several awards including a Test of Time. Prior to Amazon, he was cofounder and CEO of Amiato, a startup that offered a real-time ETL cloud service. From 2004 to 2011, he was a principal research scientist at HP Labs. He received a PhD from UC Berkeley (2004) as well as MEng, BS in CS, and BS in physics degrees from MIT. He is also a member of the Sort Benchmark committee.
Venue
Ideally located in the heart of Lausanne, the Olympic Capital in French speaking Switzerland, the Lausanne Palace Hotel enjoys a superb view across Lake Geneva and the Alps.
The beauty of its surrounding landscape makes it an exceptional place. The recognition since 2007 by UNESCO of the Lavaux region(10 km from the Lausanne Palace Hotel) on the list of "Real World Heritages" serves as proof of its uniqueness.
At the heart of Lausanne, the Lausanne Palace Hotel offers you an ideal base from which to discover Lausanne and quickly and easily access the different services in surrounding areas.
---
Accommodations
Complete list of hotels in Lausanne: city hotels.
Note: If you would like to book a room at the Lausanne Palace Hotel and receive the discounted EPFL rate for the event, please mention "EcoCloud Annual Event" whilst booking by phone. Please note that you cannot obtain this rate by booking online.
Lausanne Palace Hotel 
Rue du Grand Chêne, 7-9
CH-1002 Lausanne
+41 21 331 31 31
http://www.lausanne-palace.com
Hôtel de la Paix
Av. Benjamin Constant, 5
CH-1003 Lausanne
+41 21 310 71 71
http://www.hoteldelapaix.net
Hôtel Alpha-Palmiers
Rue du Petit-Chêne, 34
CH-1003 Lausanne
+41 21 555 59 98
http://www.fassbindhotels.com/fr-hotel-alpha-palmiers.html
Hôtel Victoria
Avenue de la Gare, 46
CH-1001 Lausanne
+41 21 342 02 02
http://www.hotelvictoria.ch
Beau Rivage Palace
Place du Port, 17
CH-1000 Lausanne
+41 21 613 33 33
http://www.brp.ch
Hotel d'Angleterre
Angleterre & Résidence
Route du Port, 11
CH-1000 Lausanne
+41 21 613 34 34
http://www.angleterre-residence.ch
Transportation
By plane/train:
Genève-Cointrin is the nearest airport (60 minutes). The Zürich Airport is located 2:30 away by train. From these two airports, you can take a train to Lausanne railway station which is 500 meters from the hotel.
Parking:
Daily passes at CHF 20.- are available at the reception of the hotel. The hotel parking is available 24 hours a day 7 days a week.
By public transportation:
The Lausanne Palace Hotel is located in the center of the city. The closest stations are:
"Lausanne-Flon" for the M1 and M2
"St-François" for buses
Photos