2019 Annual Event
Welcome to the EcoCloud 2019 Annual Event. This year's event will feature industrial speakers and EcoCloud researchers on May 6th and 7th.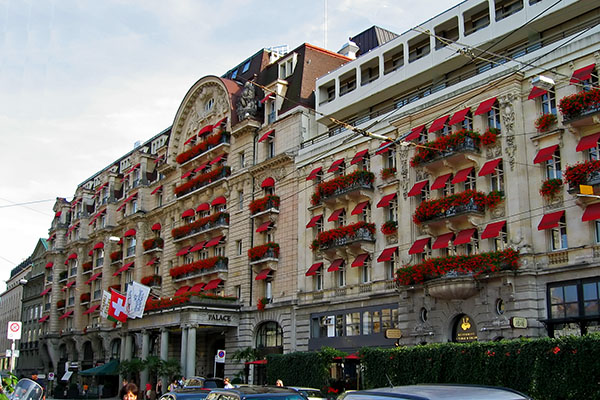 May 6th & 7th, 2019
Lausanne Palace Hotel
Keynote
Applied ML at Facebook Scale
Kim Hazelwood, Facebook
Kim Hazelwood is a Senior Engineering Manager leading the AI Infrastructure Foundation efforts at Facebook, which focus on the hardware and software platform design and efficiency for Facebook's many applied machine learning-based products and services. Prior to Facebook, Kim held positions including a tenured Associate Professor at the University of Virginia, Software Engineer at Google, and Director of Systems Research at Yahoo Labs. She received a PhD in Computer Science from Harvard University in 2004, and is the recipient of an NSF CAREER Award, the Anita Borg Early Career Award, the MIT Technology Review Top 35 Innovators under 35 Award, and the ACM SIGPLAN 10-Year Test of Time Award. She currently serves on the Board of Directors of CRA, and has authored over 50 conference papers and one book.
Industrial Session
This year's industrial session will feature prominent speakers from the IT industry including:
---
The Practical Reality of Data Privacy in Enterprises
Jason McFall, Privitar
Enterprises and government organizations are recognizing the need to pay careful attention to individual privacy in their use of data for analytics and machine learning. But there are big gaps between aspiration and practice, and there is a real need for privacy-enchancing technologies which are easy to deploy, understand, and use correctly. I'll talk about what we're seeing in industry, and how the research community can help.
Jason McFall is CTO at Privitar and leads Privitar's product, engineering and research teams. Privitar builds products to enable large datasets to be used for analytics while respecting the privacy of the individuals in the data. Privitar works closely with industry and with academia to match leading privacy enhancing technologies to real-world problems, and creates robust software products that can be widely used in enterprises.
Adversarial Samples: an Industry Research Perspective
Mathieu Sinn, IBM Research - Ireland
Adversarial samples are inputs to Deep Neural Networks (DNNs) that an adversary has tampered with in order to cause specific misclassifications. It is surprisingly easy to create adversarial samples and surprisingly difficult to defend DNNs against them. In this talk I will review the state-of-the-art and recent progress in better understanding adversarial samples and developing DNNs that are robust against them. I will then give an industry perspective on the potential threats that adversarial samples pose to security-critical applications of DNNs. Finally I will show how researchers and developers can experiment with adversarial attacks and defenses using our open-source library https://github.com/IBM/adversarial-robustness-toolbox.
Dr. Mathieu Sinn is a Research Staff Member and Manager of the AI & Machine Learning group at the IBM Research lab in Dublin, Ireland. He has a Master's in Computer Science and a PhD in Mathematics from the University of Luebeck, Germany. He has worked on a large variety of fundamental and practical aspects of Machine Learning, with the most recent focus on robustness of AI against adversarial threats. Mathieu is an IBM certified Data Science Thought Leader, regular reviewer for top AI conferences and has served as external PhD committee member on various occasions.
Data Warehouses Are Dead, Long Live Data Warehousing!
Mehul Shah, Amazon
While data warehouses remain an important primitive for analysis, they no longer are the central information hub that decision making revolves around for enterprises. Modern data sets are too large and unstructured for traditional warehouses to handle, and traditional warehouses do not leverage the cloud. Yet, the need for warehousing data sets company-wide under a single locus of control still exists. So, instead, companies are setting up next-generation, communal information hubs – an evolution of enterprise data warehouses – dubbed "data lakes". In this talk, I will discuss the opportunities and challenges in managing data lakes, and present AWS Lake Formation, a new service that makes it easy to setup, secure, and manage data lakes.
Mehul Shah is the GM for AWS Glue and AWS Lake Formation, and prior to that, he was a senior manager for Amazon Redshift. His expertise spans large-scale data management, distributed systems, and energy-efficient computing. His work has been published in top-tier conferences and journals and has won several awards including a Test of Time. Prior to Amazon, he was cofounder and CEO of Amiato, a startup that offered a real-time ETL cloud service. From 2004 to 2011, he was a principal research scientist at HP Labs. He received a PhD from UC Berkeley (2004) as well as MEng, BS in CS, and BS in physics degrees from MIT. He is also a member of the Sort Benchmark committee.
Venue
Ideally located in the heart of Lausanne, the Olympic Capital in French speaking Switzerland, the Lausanne Palace Hotel enjoys a superb view across Lake Geneva and the Alps.
The beauty of its surrounding landscape makes it an exceptional place. The recognition since 2007 by UNESCO of the Lavaux region(10 km from the Lausanne Palace Hotel) on the list of "Real World Heritages" serves as proof of its uniqueness.
At the heart of Lausanne, the Lausanne Palace Hotel offers you an ideal base from which to discover Lausanne and quickly and easily access the different services in surrounding areas.
---
Accommodations
Complete list of hotels in Lausanne: city hotels.
Note: If you would like to book a room at the Lausanne Palace Hotel and receive the discounted EPFL rate for the event, please mention "EcoCloud Annual Event" whilst booking by phone. Please note that you cannot obtain this rate by booking online.
Lausanne Palace Hotel 
Rue du Grand Chêne, 7-9
CH-1002 Lausanne
+41 21 331 31 31
http://www.lausanne-palace.com
Hôtel de la Paix
Av. Benjamin Constant, 5
CH-1003 Lausanne
+41 21 310 71 71
http://www.hoteldelapaix.net
Hôtel Alpha-Palmiers
Rue du Petit-Chêne, 34
CH-1003 Lausanne
+41 21 555 59 98
http://www.fassbindhotels.com/fr-hotel-alpha-palmiers.html
Hôtel Victoria
Avenue de la Gare, 46
CH-1001 Lausanne
+41 21 342 02 02
http://www.hotelvictoria.ch
Beau Rivage Palace
Place du Port, 17
CH-1000 Lausanne
+41 21 613 33 33
http://www.brp.ch
Hotel d'Angleterre
Angleterre & Résidence
Route du Port, 11
CH-1000 Lausanne
+41 21 613 34 34
http://www.angleterre-residence.ch
Transportation
By plane/train:
Genève-Cointrin is the nearest airport (60 minutes). The Zürich Airport is located 2:30 away by train. From these two airports, you can take a train to Lausanne railway station which is 500 meters from the hotel.
By car:
Take the N5 toward Geneva (Genève)/ Nyon /Lausanne. Then take the A9 toward Simplon / Grand-Saint-Bernard / Lausanne. Rejoin the Swiss motorway A1 toward Lausanne-Sud / Geneva (Genève) then Lausanne-Ouchy / Lausanne-Maladière / Lausanne-Malley / Lausanne-Centre. Take exit no. 2 and continue on the Avenue du Chabalais for 1.5 km. At the roundabout, continue straight ahead on Avenue de Provence then on Avenue de Tivoli. Continue on the Avenue Jules Gonin then Rue du Grand Chêne.
Parking
Daily passes at CHF 20.- are available at the reception of the hotel. The hotel parking is available 24 hours a day 7 days a week.
By public transportation:
The Lausanne Palace Hotel is located in the center of the city. The closest stations are:
"Lausanne-Flon" for the M1
"Bessières" for the M2
"St-François" for buses
Photos